News
Sunday August 11th 2019 Eid Prayers at: Islamic Community Center of Phoenix 2515 W Orangewood Ave Phoenix, AZ 85051 Prayers Led by ICCP Imam Sheikh Mahmoud Soliman 1st Prayer Time : 7:30 AM sharp 2nd Prayer Time : 09:00 AM sharp 3rd Prayer Time: 10:30 AM sharp...
read more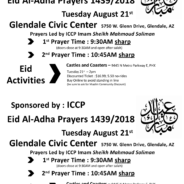 Eid Al-Adha Prayers 1439/2018 Will be on Tuesday August 21st 2018 Insha'Allah & held at Glendale Civic Center 5750 W. Glenn Drive, Glendale, AZ 1st Prayer Time : 9:30 AM sharp (doors close at 9:30AM and open after salah) 2nd Prayer Time : 10:45 AM sharp Prayers Led by ICCP Imam Sheikh Mahmoud Soliman Eid Activity: Castles and Coasters – 9445 N Metro Parkway E, PHX Tuesday 21st – 2pm Discounted Ticket : $16.99 ; 5.50 no-rides Buy Online to avoid standing in line (be sure to ask for Muslim Community...
read more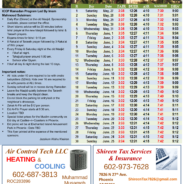 Printer Friendly...
read more
On May 12th 2017 ICCP delivered 60 Syrian Refugee Kits to IRC to be shipped to Syrian refugees in refugee camps overseas. This project was kicked off a couple of months ago in collaboration with Trinity Mennonite Church. This project is an example of following Allah's command to Muslims and Non-Muslims to "compete in good deeds". We would like to thank everybody that donated and all of the volunteers that helped packing the kits. Also, it is not too late to help if anybody wishes to...
read more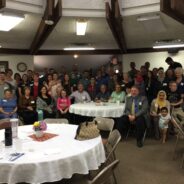 ICCP and Trinity Mennonite Church members meet for lunch and for the good cause of starting Relief Kit for Syrian Refugees Project. Both communities will collaborate on purchasing and collecting items that will be sent to Syrian refugees overseas through...
read more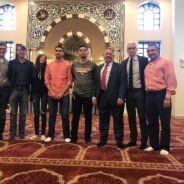 Thank you Anderson Cooper, Graham Messick and the rest of the 60 Minutes crew for visiting ICCP. We enjoyed your visit and we appreciate your...
read more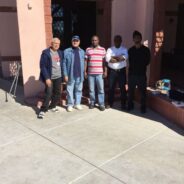 Thank you to all the volunteers who participated in the Masjid cleaning and maintenance on Saturday, January 28th...
read more